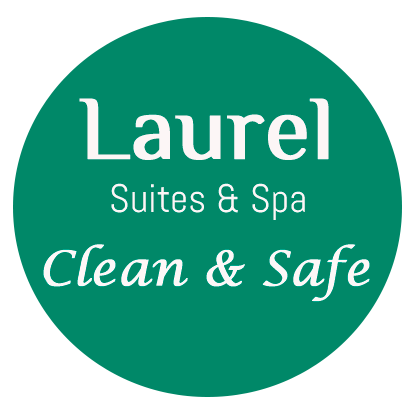 Laurel Suites & Spa
Clean & Safe
Our frequent customers already know the strict security and cleaning protocols that we put into practice at Laurel Suites Apartments (valued between 9 and 9.4 on the main reservation websites). To these measures, we have incorporated the recommendations of the Ministry of Health, the World Tourism Organization -OMT-, the World Health Organization -OMS and the Ministry of Health of the Andalusian Government, among others, to combat the SARSCoV-2 (Covid-19).
This allows you to come to visit us and enjoy Granada with extensive security measures that we have recently implemented.
We do not want to bore you with excessive information, but for your peace of mind:
COLABORATION WITH "PREVENSUR"

labour risk prevention company, specialists who have elaborated a Safe Action Protocol in  our facilities, indicating guidelines to follow for the safety of both customers and employees.
CONTACTLESS PROCESSES
We have analyzed our processes and made modifications in order to provide maximum security for all operations:
– Possibility of "Auto check-in" without the need to interact with any employee upon arrival. – Documents at check-in (DNI / Passports) without contact
– "Welcome Information" with useful information (from the city and Laurel Suites Apartments) in digital format (access via QR code)
– Single-use pens in case you need a face-to-face signature
– Delivery and collection of keys in independent circuits that ensure their disinfection. – Payments with protected and contactless POS
– Digitized invoice, sent by email after your stay
– …
PROCESOS "CONTACTLESS"
Hemos analizado nuestros procesos y realizado modificaciones con el fin de dotar de la máxima seguridad todas las operaciones:
–  Posibilidad de "Auto check-in" sin necesidad de interactuar con ningún empleado a tu llegada.
–  Toma de documentación (DNI/Pasaportes) sin contacto.
–  Manual de bienvenida con información útil (de la ciudad y de Laurel Suites Apartments)

en formato digital (acceso mediante código QR).

–  Bolígrafos de un solo uso en caso de necesitar firma presencial.
–  Entrega y recogida de llaves en circuitos independientes que aseguren su desinfección.
–  Pagos con TPV protegido y contactless.
–  Factura digitalizada, enviada por correo electrónico después de la estancia.
–  …
SAFETY DISTANCES and SIGNPOSTS
We have incorporated:
– Markers in order to guarantee the recommended safety distance between clients, in addition to modifying gates and accesses.
– Safety screen in our reception for the relief of employees and clients
– Information on health care, firemen, local and national police centers in the area, with opening hours and telephone numbers for emergency care and their location.
– Controlled use of elevators, showing maximum capacity
-…
SAFE SPA
We have implemented new safety measures in our Spa so that you can continue enjoying a relaxing massage or beauty treatment. We also added:
– capacity limitation
– only by appointment – Shift schedule
-…
CLEANING AND DISINFECTION PROTOCOLS
Before re-opening our establishment, we have cleaned the facilities and disinfected transit areas, service areas, rooms …
– We have modified our cleaning protocols including frequent disinfection of contact surfaces such as knobs, sinks, faucets, cranks, elevators, reception desk, doors, room keys / cards, remote controls, toilet flush button, remote control. A/C, dryer, hangers, etc.
– We add hand paper or hand dryers in common bathrooms (Spa).
– We have disinfectant gels available to our clients.
– Higher frequency of ventilation of the facilities to renew the air more regularly.
– Linens and towels. Washing treatment at a temperature above 60oC. Removal of used
clothing in a sealed bag.
– Elimination of cushions or textiles for a better sanitation of the room. – New bathroom amenities
– …..
TRAINING OF WORKERS
Our team has received and receives continuous training to ensure the well-being of our guests (including information on new protocols, measures, recommendations …).
– What to do / how to act if they have symptoms
–  information on personal protective equipment (PPE) and how to use (eg putting on and taking off gloves and masks)
–  individual locker to deposit personal belongings and avoid contact between workers,
–  optimal hand washing
…
DEVELOPMENT AND MONITORING OF MEASURES
Through the appointment of a person in charge and the collaboration of Prevensur in order to monitor new measures that may be proposed by the health authorities, as well as ensure compliance and implementation of the measures already adopted.