Laurel Suites
Calle Laurel de San Matías, 1-7,
18009 Granada, España
Laurel Suites Apartments are located in the heart of Granada, just behind the City Hall Square and in a pedestrian street. Thanks to its fantastic location, between narrow and quiet streets, you can visit, in less than 5 min (on foot), the main areas of the city. Literally around the corner, you will find a wide range of bars and restaurants for tapas (Calle Navas, Ganivet, Elvira, Plaza Bibrambla, Plaza Nueva …), shopping (Calle Recogidas, Reyes Católicos, Alhóndiga and Mesones) and / or Tourism (Cathedral, Barrio del Albaycin and Realejo.).
The Alhambra is located on top of a hill and it takes 20 minutes approximately on foot, so we advise our guests to catch a shuttle minibus leaving for the Alhambra every 5 min. The nearest stop is just 400 meters from our reception…
Laurel de San Matías Street, 1-7, 18009 Granada, Spain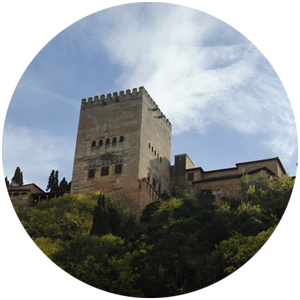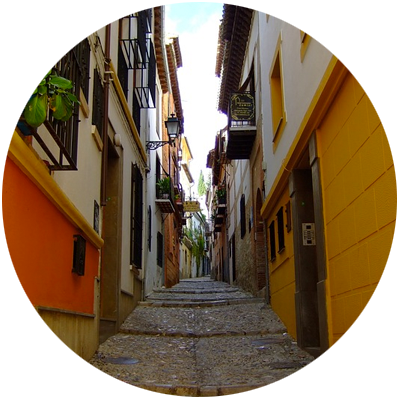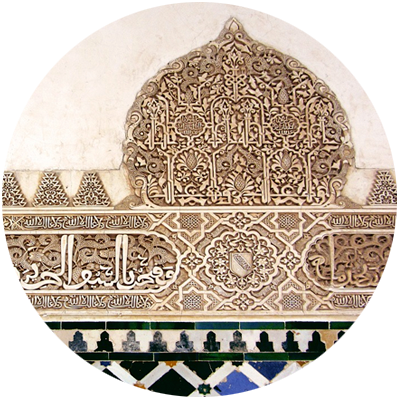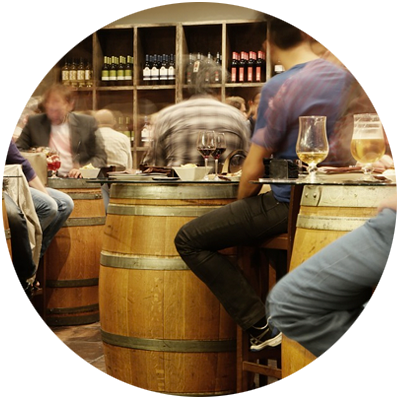 Car
Attention! Access to a part of the centre of Granada is only allowed to authorized vehicles of residents and hotel guests. Cameras are installed by the police, so we strongly advise you to follow these indications in order to avoid future fines and / or penalties when driving on other streets. We suggest you to print the attached map and these directions (do not rely on your GPS navigator):
Since most of our customers arrive in Granada by the highway A-44, take exit 129 (you can read "Recogidas" on the sign). This exit will take you directly to Recogidas street. You must go all the way along the street, ignore the no-entry signs and control of access by cameras (you are authorized to drive as a hotel customer).
At the end of the street, you must continue straight (although the street makes a small turn to the right) to enter Angel Ganivet Street (easily recognizable because it has arches on both sides). Again at the end of the street you have to turn 90º to the left and enter San Matias Street (despite the no-entry sign that you will see at the beginning).
About 200 m. further you will find a yellow sign with the text "HOTEL GAR-ANAT, PEREGRINOS" pointing to the left (next to a green plastic container). Turn left onto this street (VERY NARROW) that starts at the "Placeta de los Pelegrinos" and 150m. further you will reach "GAMBOA" car park. It is convenient that you call us when you arrive to open the parking and give you the key to avoid unnecessary waiting.
Bus
To get to Laurel Suites Apartments from the bus station you can take a local bus outside the station ("33" line) and get off at the end of Gran Vía de Colón (next to the cathedral), you have to walk only for 4-5 minutes to reach our reception. Do not worry if you skip this stop, you can also do it in the next one, Acera del Darro 40. The bus ticket costs 1.5 €  per person and a taxi about 10-12 € from the bus station.
The station is on the outskirts of town (too far to walk)
Train
To get to Laurel Suites Apartments from the train station (RENFE) you can take a taxi (about 8-10 €) or an urban bus (1.5 € / ticket). If you decide to come by bus, you must walk about 200 metres by Andaluces Avenue to the intersection with "Avenida de la Constitución", catch any bus line 21, 4, 8, 11 or 33 (every 5 minutes).
You should get off at the 4th stop (Cathedral), right at the end of Gran Vía de Colón and from here you will arrive at our reception in 4 minutes on foot. Do not worry if you skip this stop, you can also get off at the next one, which is Puerta Real and you will arrive at our reception in 5 minutes on foot.


You can call us at +34 958 215 665
Reception Hours: from 9:15 am to 3.00 p.m
Contact us at: info.laurelsuites@gmail.com
Or visit us at: Street Laurel de San Matías nº7-1. Granada